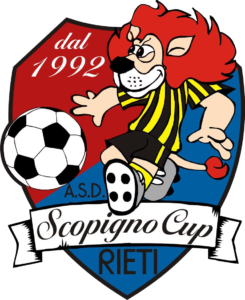 This event sponsored with the HIGH PATRONAGE of the EUROPEAN PARLIAMENT and which over the years has become one of the most prestigious in Italy, Europe and in the world of the UNDER 17 category, saw the participation of the best professional teams in youth sector level including AFC Ajax (Netherlands), Real Madrid (Spain), FC Barcelona (Spain), F.C. Juventus, F.C. International, S.S. Lazio, A.S. Rome, BC Milan, F.C. Zurich (Switzerland), Steaua Bucharest (Romania), Atletico Madrid (Spain), U.C. Sampdoria, Dynamo Kiev (Ukraine), Atalanta Calcio, F.C. Bayern Munich (Germany), A.S. Monaco (Principality of Monaco), Cagliari Calcio, A.C. Turin, Zenit S. Petersburg (Russia), S.S.C. Napoli, AC Fiorentina, U.S.A. National Team (United States), Palmeiras (Brazil), Celtic Glasgow (Scotland), Red Bull Salzburg (Austria), Olympique Marseille (France) etc. , in addition to the presence of numerous famous personalities from the world of sport including: Marcello Lippi, Claudio Ranieri, Giovanni Trapattoni, Bruno Conti, Massimiliano Allegri, Antonio Conte, Felice Pulici, Communardo Niccolai, Vincenzo D'Amico, Giancarlo Oddi, Riccardo Ferri, Lorenzo Marronaro, Stefano Di Chiara, Ioan Marjaru (Romania), Giancarlo Corradini, Roberto Mancini, Gianfranco Matteoli, Bruno Giordano, Roberto Rambaudi, Luciano Spalletti, Eusebio Di Francesco, Stefano Colantuno, Zdenek Zeman, Delio Rossi, Leo Acori, Mario Beretta, Filippo Inzaghi, Simone Inzaghi, Paolo Di Canio etc. , in addition to the numerous players who have participated in it who currently play in professional teams, including: 7 WORLD CHAMPIONS (Philipp Lahm, Fernando Torres, Gerad Piquè, Daniele De Rossi, Marco Amelia, Pedro, Sergi Bousquets) 4 VICE CHAMPIONS OF THE WORLD (Rafael Van Der Vaart, Jhonny Heitinga, Nigel De Jong, Wesley Sneijder) and over 100 players including; Sebastian Giovinco, Claudio Marchisio, Antonio Candreva, Lorenzo Insigne, Alessandro Rosina, Alessio Romagnoli, Cesare Bovo, Alberto Aquilani, Daniel Parejo, Mattia Destro, Davide Santon, Federico Peluso, Denys Boyko, Nicola Murru, Nicolò Barella, Moise Keane etc. as evidence of the interest that this tournament has within the European and world football scene.                                                                                                                          The event is combined with the National Awards MANLIO SCOPIGNO and FELICE PULICI which are awarded every year to the GOTHA of SERIE A and B football, by a prestigious jury made up of distinguished journalists and professionals; in the past, these awards have been awarded to FABIO CAPELLO, MARCELLO LIPPI, ROBERTO MANCINI, MASSIMILIANO ALLEGRI, ANTONIO CONTE, CLAUDIO RANIERI, LUCIANO SPALLETTI, DELIO ROSSI, CLAUDIO LOTITO, FABIO PARATICI, GIUSEPPE GIANNINI, ANDUSEBIO DI FRANCESCO, IGBERLI TARE, SIMONE INZAGHI, MAURIZIO COSTANZI, GIUSEPPE MAROTTA, ALESSIO CRAGNO, PAOLO DI CANIO, just to name a few.
The SCOPIGNO CUP is a unique 360 ​​° event that encompasses SPORT (football competitions with the top of international youth football), TOURISM (guided tours in the most pleasant places in the city of Rieti and in the Lazio Region), CULTURE ( International exhibition of works of art and painting) and SOLIDARITY (in favor of the orphans of the earthquake of Amatrice and of Alcli Giorgio and Silvia for the fight against childhood cancer and leukemia). In addition, there will be national newspapers such as: Corriere dello Sport, Gazzetta dello Sport, Guerrin Sportivo, Tuttosport and the presence of RAI SPORT, SKY, MEDIASET which each year resume and broadcast the three prestigious EVENTS.
PRESIDENT A.S.D. SCOPIGNO CUP:
Dear Friends We have reached the 31th edition of the SCOPIGNO CUP WORLD FOOTBALL TOURNAMENT UNDER 17, an event that enhances and highlights the best expression of international youth football, and which represents a flagship for the City and the Province of Rieti, the Lazio Region and for Italy; but above all an instrument for the dissemination of sport and in particular of the most popular and beautiful game in the world .. called "FOOTBALL", both at European and World level. Also in this edition there will be the combination of Sport-Solidarity through a charity auction and an International Art and Painting exhibition, the proceeds of which will be donated to the populations affected by the earthquake of 24 August 2016 and to ALCLI Giorgio and Silvia for the fight against childhood cancer and leukemia, with which we have been collaborating for over 15 years, in addition to guided visits to the most pleasant places in our city and province of Rieti and in the Lazio region, for a combination of Sport – Tourism – Culture and Solidarity. the hope is that all participants honor such a prestigious tournament in the best possible way, enhancing the healthiest principles of sport and football, such as solidarity, loyalty and respect for others, in a competition that will undoubtedly reward the best A all participants, managers, family members, and all spectators, I wish on behalf of all the ASD Scopigno Cup a great stay in the beautiful cities of Rieti and Rome.
                                                                                                                                        Cav. Uff. Fabrizio Formichetti