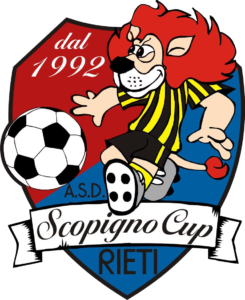 This event sponsored by the EUROPEAN PARLIAMENT and the PRESIDENCY of the COUNCIL of MINISTERS and with the passing of years among the most prestigious in Italy and Europe and in the world, saw the participation of the best professional teams at youth level including A.F.C Ajax (Holland), Real Madrid (Spain), Fc Barcelona (Spain), F.C., F.C. Internazionale Juventus, S.S. Lazio With A.S. Roma, A.C. Milan, A.C. Parma, Fc Zurich (Switzerland), Steaua Bucharest (Romania), Atletico Madrid (Spain), U.C. Sampdoria, Atalanta Calcio, Fc Bayern Munich (Germany), Monaco (Principality of Monaco) A.S., Cagliari Calcio, A.C. Torino, s.s Napoli, AC Fiorentina, U.S.A (United States), Palmeiras (Brasil).
In addition to the presence of many celebrities from the world of sport including: Marcello Lippi, Claudio Ranieri, Giovanni Trapattoni, Bruno Conti, Massimiliano Allegri, Antonio Conte, Felice Pulici, Communardo Niccolai, Vincenzo D'Amico, Giancarlo Oddi, Riccardo Ferri, Lawrence Madden, Stefano Di Chiara, Ioan Marjaru (Romania), Giancarlo Corradini, Roberto Mancini, Gianfranco Matteoli, Bruno Giordano, Roberto Rambaudi, Luciano Spalletti, Eusebio Di Francesco, Stefano Colantuno, Zdenek Zeman , Delio Rossi, Leo Acori, etc., as well as players who participated including to 7 WORLD CHAMPIONS ( Philipp Lahm, Fernando Torres, Gerad Piquè, Daniele De Rossi, Marco Amelia, Pedro, Sergi Bousquets ) 4 VICE WORLD CHAMPION ( Rafael Van Der Vaart , Jhonny Heitinga , Nigel De Jong , Wesley Sneijder ) besides Sebastian Giovinco, Claudio Marchisio , Antonio Candreva, Lorenzo Insigne, Alessandro Rosina, Simone Pepe , Alessio Romagnoli, Cesare Bovo, Alberto Aquilani, Daniel Parejo, Francesco Pisano, Mattia Destro, Davide Santon, Federico Peluso, Denys Boyko, Nicola Murru etc. interest in testimony that this tournament plays in the context of European and world football scene.
The event includes a Prize every year MANLIO SCOPIGNO is awarded to the best coach of serie A and B, in the past this prize was awarded to FABIO CAPELLO, MARCELLO LIPPI, ROBERTO MANCINI, MASSIMILIANO ALLEGRI, ANTONIO CONTE, CLAUDIO RANIERI, LUCIANO SPALLETTI, DELIO ROSSI, STEFANO COLANTUONO just to name a few. The tournament also has a social aspect, has the case every year, the collection of final stages, is donated to charity to Giorgio and Silvia ALCLI, for the fight against cancer and childhood leukemia, in addition to requests that all participants will perform at the provincial hospital of Rieti, in an effort to bring comfort and hope to people who suffer, for a combination sport-solidarity.
It is also expected the presence of national newspapers as Corriere dello Sport, Gazzetta dello Sport, Tuttosport and sporty Guerrin the presence of RAI SPORT 1 and 2 each year taking and trasmetteno the event live.
A.S.D. SCOPIGNO CUP PRESIDENT: Cav. Fabrizio Formichetti: Dear friends came to the 26rd edition of the CUP an event that JOHN is a showpiece for the city and the province of Rieti, but especially sports dissemination tool and especially the most beautiful game in the world … called "football", both in Europe and globally. In this edition there will be Sport-Union Solidarity by selling Easter eggs whose proceeds will be donated to people affected by the earthquake of 24 August 2016 and in particular the children of Amatice City to which we are very tied both emotionally that organizationally, in addition to requests that all participants will perform at the provincial hospital of Rieti, in an effort to bring comfort and hope to people who suffer from , and guided tours in the most beautiful of our city and province of Rieti, a combination Sport-Tourism-culture and solidarity. It is hoped that all participants in the best way to honour such a prestigious tournament, extolling the healthiest sport and principles of football, such as solidarity, loyalty and respect for others, in a competition that will reward the best without doubt to all participants, to the managers, family members, and to all viewers, I wish on behalf of the A.S.D. Scopigno Cup for an excellent stay in our beautiful city Rieti, Terni, Frosinone and from this year Cagliari, the land where Scopigno won the Scudetto.